The History of Pig Roasts in the United States: A Long Tradition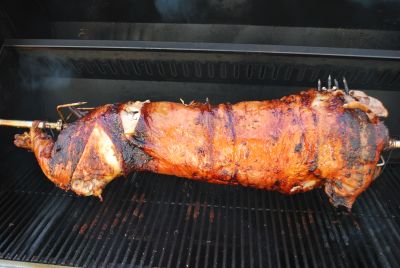 The pig roast has a long tradition of celebrations in many cultures and locations including Puerto Rico, Cuba, the Philippines, Indonesia, China, and the UK. As you can tell, it's not just us in the US that love it, and the love for it certainly isn't rooted here—like most of our traditions, it has come from other cultures.
In 1539, Hernando de Soto landed in the current Tampa Bay, Florida with the United States' first pigs, 13 of them. The pig herd grew, and some ran off to become wild pigs. It is said that the Native Americans became very fond of pork. Then during the new colonies, pig production started and spread.
Interesting Fact: Manhattan Island residents of colonial time decided to build a permanent wall on the northern edge of modern Lower Manhattan to keep the free-roaming hogs out of the grain fields of New York City farmers. Later, a street was erected a long this wall, known today as Wall Street.
In the 19th century, churches and politicians would "go whole hog" with a barbeque that would bring people of all types as it is an easy way for people to gather for food and drink. These events would be accompanied with speeches and concerts to raise money or support.
Then and now, a pig roast is a staple in New Year's Eve and Christmas family gatherings in many places. In the South of the United States, it's a tradition that can be celebrated year-round thanks to the weather there. It's very popular still for church gatherings but also for family reunions and big games.
Boogie Barbeque actually started out exclusively as a pig roaster. Our pit master perfected his art by training and working for many backyard roasters. But when resources ran low, he traveled to the South to learn from the best, first hand. In North Carolina, he toured and talked with the greatest of Southern pit masters. And of course, he brought his knowledge and exepertise back to us at Boogie Barbeque in Hickory Corners, just north of Kalamazoo and Battle Creek, Michigan.
At Boogie Barbeque, we can offer many options for including a pig roast, or Pig Pickin' as they call it in the South, at your next event. We've catered for family reunions, graduation open houses/graduation parties, festivals, and charity events. We can set up at your event or backyard, or we can cook it at our restaurant and bring you the meat. Either way, you and your guests will enjoy our specially prepared meats, and you'll love participating in this popular tradition.