Boogie Barbeque And Barns – Ya, That Sounds Right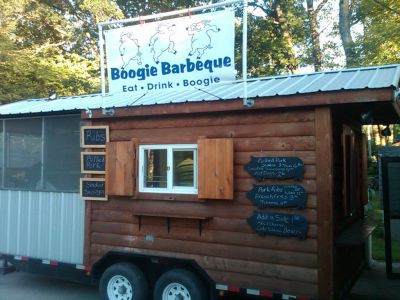 Some things just seem to go together, and eating our classic bbq while checking out vintage vehicles is definitely one them. Boogie Barbeque is bringing our smoky goodness out to the Gilmore Car Museum for their Red Barns Spectacular Car Show & Swap Meet on Saturday, August 5th – and we want to see you there!
The Grand Daddy
They call this one the "Grand Daddy" of all car shows because there will be thousands of vehicles shined up and on display. No whipper snappers, everything has to be over 25 years old at least. There's a huge variety too, cars, trucks, commercial vehicles, vintage campers, military vehicles, fire trucks, even boats! This show is also famous for bringing in the Tin Can Tourists – antique campers know for their modifications and whimsy. If you haven't been to this one, you're really got to check it out.
Wander By And Stop In For Great BBQ
When you're ready to rest your feet between trying to see everything, stop by for some of our classic BBQ. Once you smell our food cooking, it'll lure you in. There's never enough time for barbeque, so make sure you find some time during the car show. We'll have a bunch of your favorite items, including smoked pork, chicken, and ribs. And we won't forget our homemade sides because cornbread should really be a food group of its own, and our creamy slaw and Boogie baked beans are basically necessities.
And don't forget, we still have room on our summer and fall schedule to cater your special event. Do you have a family reunion or wedding rehearsal dinner coming up? Call Boogie Barbeque to the rescue! We even have something for the vegetarians in your life, because, let's face it, everybody wants amazing, smoky summer food.