Suuuuuuu-EEE! Barbecue Catering from Boogie BBQ!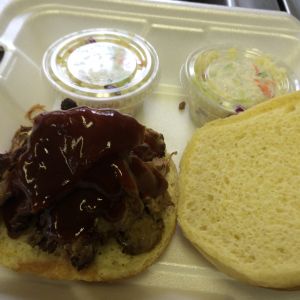 Next time you're planning an event, try that call, or call Boogie Barbecue. Think of it as a travelling art show. Great Barbecue, you see, is an art form. It's starts with a raw, natural talent. But talent isn't enough. You don't rise to the level of artist until you add passion. And work … years of hard work. Study the masters, then copy the masters, "master" the masters, and do their stuff as well as they do. Then you're ready to experiment, because you're not an artist until your art is your own. So, you try something new. Start with the fundamentals, remember everything you learned, then change it up. Tweak this, try that, oops, don't do THAT again! What about this? Yes, that's better…
Boogie Barbeque began as a pig roaster. Our Pit Master trained under and worked with many backyard roasters, perfecting the art of pig roasting. He then traveled to the pig roasting Mecca of North Carolina, touring and talking with the southern pit masters.
Once the pig roast was perfected, we began to add to our menu. All our delicious meats are smoked over hand selected Michigan cherry and maple woods. For hours. We use our own blends of spice rubs and barbeque sauces to compliment all our smoked and grilled meats. That's part of the art. All of Boogie Barbeque & Catering's side dishes are prepared from scratch, using the freshest ingredients available, from recipes that we have refined over the years. Our catering menu is always growing, and we've added hot chicken wings, smoked turkey, grilled sausages, and grilled shrimp to our offerings.
Our barbecue catering menu is very flexible and easily customizable, so we can match our art to your event and your group, no matter how discerning. We are committed to making your event our top priority and look forward to working with you.